Cincinatti Reds - Polling to Inform Strategy
case study: The Cincinnati Reds & Committee To Save Our Baseball Tradition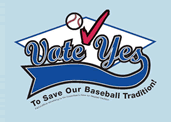 Challenge
The Cincinnati Reds, looking to improve their spring training operations in Sarasota, needed to gain approval of city voters to pass a $16 million bond referendum to fund the city's portion of the $53 million project. During a climate of declining property values in 2007, opposition to any increase in property taxes seemed overwhelmingly strong.
Solution
Despite the climate, the Cincinnati Reds did not know where city voters stood on the issue and whether or not they should invest in developing a campaign to influence voters to vote yes for the referendum. Research was conducted and revealed only a minority of voters were in favor of the bond referendum at 16%. But insight from research also illuminated which types of voters were in favor of the referendum and what messaging could be used most optimally in order to influence votes. This insight provided the confidence the Reds needed to move forward to develop a focused communications plan with Clarke/Eric Mower and Associates to win voter approval.
Success
Typically, an approval rate of only 16% would mean not investing in a campaign to influence voters to vote yes for the referendum. However, voters incredibly went to the polls and voted in favor. It was absentee ballots from part-time residents that led to the referendum failing by a mere 225 votes. While the referendum did not pass, the close loss helped to demonstrate to county and city officials how important the Reds were to Sarasota. While the Reds have since moved on to Goodyear, Arizona; Sarasota has opened its eyes to how important baseball is to its quality of life and economy.